Welcome to Mulligan's Pub & Grill
Welcome to Mulligan's Pub & Grill
Welcome to Mulligan's Pub & Grill
Traditional & Flatbread Pizzas
Mulligan's Pub & Grill at The Crown.
Mulligan's Pub & Grill was established in June of 2005. Built by the owners of The Crown Golf Club and Residential development, Mulligan's Pub is a welcomed amenity for golfers and neighborhood patrons alike. Mulligan's has a cozy rustic charm and friendly and inviting atmosphere you can feel as soon as you walk in the door. We offer fresh homemade soups and have daily food and drink specials. Our signature stuffed burgers and sandwiches make it a golf and dining experience that can't be beat!
Monday           CLOSED                                                                                                                                                       Tuesday           3PM – 9PM  ~ Taco night!  $2 each. Margarita special $4                                                       Wednesday    3PM – 9PM ~  $2 sliders! Order a stuffed burger  and your first domestic draft is $1.00    Thursday        3PM – 9PM Chef's specials!                                                                                                             Friday            11AM – 10PM Fish fry! Cod or catfish $12.99, perch $14.99. Add $3.99 all you can eat                                                                                                                                                                                                     Saturday       11AM – 10PM Prime Rib night. Delicious slow roasted prime rib of beef.  $15.99 8 oz.                                  $19.99 12 0z.  
  Sunday           Breakfast menu 9am – 1pm.  Full menu 11am – 8pm
Call (231) 932-2166
Mulligan's is now serving a traditional breakfast menu  Sunday from 9am – 1pm!
Eggs cooked to order, bacon or sausage, toast and Mulligan's potatoes
Build your own omelet.  Choose from a variety of ingredients.
Biscuits and gravy
Waffles, french toast, or pancakes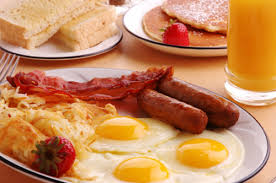 Play More
Did we mention that you can play the Michigan Lottery here. Stop by and play with us. Playing the lottery at Mulligan's can give you that lucky edge that you need.
Hours
Monday – CLOSED
Tuesday – Thursday 3:00 p.m. to 9:00 p.m.
Friday and Saturday 11:00 a.m. – 10:00 p.m.
Sunday – Breakfast 9:00 a.m. –  1:00 p.m.
Sunday full menu – 11:00 a.m. – 8:00 p.m.
Happy Hour
Tuesday – Thursday: 3 – 6 p.m.
Friday – Saturday: 11 – 6 p.m.
Sunday – ALL DAY!